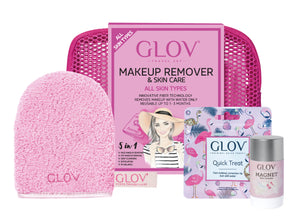 Less means more!
Take only what is necessary & continue to dazzle your beauty.  TRAVEL SET will bring out your beauty wherever you are! All you need for your make-up removal & before-bed skincare routine in one colourful cosmetics bag!
This GLOV Travel Set contains
GLOV On-The-Go to remove make-up with just water, GLOV Quick Treat for make-up corrections & GLOV Magnet Cleanser to clean the GLOV fibres & your make-up brushes.